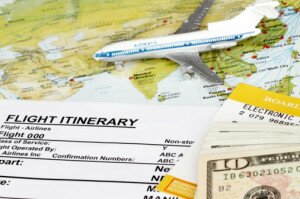 Rodney L. Johnson of George Washington University's Office of Parent Services sent out an email this week with an essential spring break checklist and resources. Make sure to check it out before taking a much deserved break from classes.
Spring Break 2014 is almost here, and it's hard to believe that three-quarters of the academic calendar year is already over. Spring Break is a great time for students to relieve their stress, travel, and serve communities around the world by participating in Alternative Spring Break Programs. For others, Spring Break is a time to relax, sit back and enjoy the company of friends and family without the worries of classes, assignments and exams.
BEFORE YOU TRAVEL
Confirm your travel itinerary including hotel, airfare and rental car a few days in advance.
Check the airline policies regarding baggage, containers, etc.
If you are driving plan your route ahead of time and carry a map or GPS device just in case you need to make a detour. Stick to major highways and remember a safe Spring Break starts with a good car inspection before you leave. Also, don't forget that at some point, you have to come back so don't spend all your gas money at the mall on the last day of your trip.
If you are flying, make sure you know how you are getting from the airport to your hotel. Call the hotel or your tour operator ahead of time and ask if they have a free shuttle OR if they can recommend a taxi service and get phone numbers.
If you are traveling to another country, make sure you know what documentation is required to enter and leave that country – a passport or a raised-seal birth certificate will get you in and out of most countries and will get you safely back on US soil. Please visit the US Department of State website for any travel warnings or additional information (http://www.usembassy.gov/ ).
Give parents or caregivers your specific itinerary and keep in touch while on break.
Do not keep your passports in plain view if you are traveling abroad. Passports should either be put in the hotel safe or carried with you at all times. You should also look into having travelers cheques. Please visit the Students Abroad website for additional information (http://www.studentsabroad.state.gov).
Destroy all fake ID's!
Check the laws regarding alcohol if you are visiting a foreign destination- they may be very different.
Learn emergency service numbers and consulate information if applicable for your destination.
Bring your insurance card and an international phone card (cell phones may not work abroad or in remote areas of the U.S.).
Remember to pack any prescription medication you may need.
Know the currency of the country you are traveling to and plan accordingly. Do not bring a lot of large bills- keep smaller bills handy for tipping. Carry only one or two major credit cards.
Contact your banking institution to notify them you are traveling. This allows them to note your travel arrangements and avoid denying transactions or freezing your credit card for suspicious activities.
UPON YOUR ARRIVAL
Call your parents or caregivers.
Keep a copy of your passport and driver's license in the hotel safe in case your picture ID is lost.
Avoid underage and excessive alcohol consumption.
Do not import, purchase, use or have illegal drugs in your possession.
Be aware of your surroundings and do not have your phones, ipods, laptops, etc. in plain view.
Use caution with credit/debit cards and checks. Be aware of identity theft.
Keep important phone numbers on you at all times. Make sure the ICE (in case of emergency) section of your phone is filled out.
Travel with friends; do not travel or go anywhere alone. It is a lot harder to be preyed upon if you are in a group.
Act with good judgment and with good moral character.
To avoid sun poisoning or sunburn, pack sunscreen, preferably 15 SPF or higher!!
Take warning flags from beaches seriously. Many drownings occur when swimmers are overwhelmed by the water conditions. If you swim, always exercise caution.
Avoid participating in demonstrations and other political activities. Political activities in other countries can result in detention and/or deportation by officials. Even demonstrations that are intended to be peaceful can sometimes turn violent, and you don't want to be caught in the middle, despite any good intentions!
Abide by the laws of each community and country.
Represent GW and your family responsibly.
Most of all- BE SAFE AND HAVE FUN!